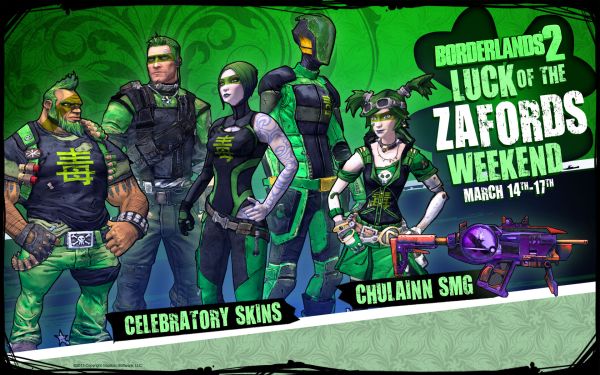 Celebrate the Luck of the Zafords in Borderlands 2 this weekend with special in-game events and gear!
Each year, around this time, the Zaford clan takes a break from their war with the Hodunk bandit family to celebrate their good fortune and honor those that have passed on, such as that time Scooter buried their son alive in a shallow grave.
During this time, those who play Borderlands 2 while connected to the internet will see a temporary increase in the drop rates and rarity of shields! Plus, Absorb shields will have a better chance to absorb enemy bullets and Booster shields will have a higher chance of dropping a shield Booster when damaged.
In addition, the Zafords have prepared special gifts! To receive your celebratory Zaford gear, including special green skins for each character and a Chulainn SMG that will be the the same level as (and appear in the backpack of) the first character you load, enter the SHiFT codes below into Borderlands 2:
PC / Mac Zaford Gear SHiFT Code: KTCBJ-C9RTC-BSFTJ-33TT3-FBWHF
Xbox 360 Zaford Gear SHiFT Code: KJCJ3-RCWC6-5K9BF-WFBT3-3WFKK
PlayStation 3 Zaford Gear SHiFT Code: CTK3B-99K3J-XXKW3-ZTWTJ-HJH5J
Better act fast, though! The above codes and bonuses will only be active from Thursday, March 14 at 12:00PM CT (What time is that for me?) through Sunday, March 17 at 11:55PM CT (What time is that for me?)
To learn more about SHiFT codes and how to redeem them, visit: //support.gearboxsoftware.com