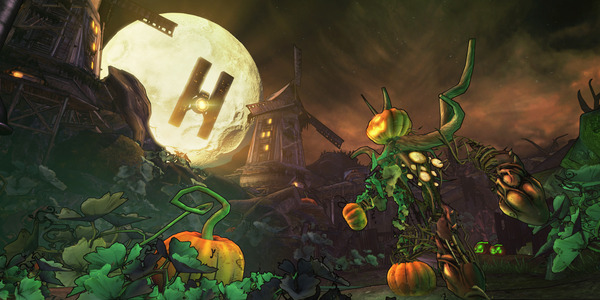 The first in the Headhunter add-on series for Borderlands 2, TK Baha's Bloody Harvest, will be available beginning today via digital download* across PC / Mac via Steam, Xbox 360 via Xbox Live Marketplace and PlayStation 3 via PlayStation Network worldwide** for only USD $2.99 / GBP £2.39 / EUR 2,99 €. Join the zombified corpse of TK Baha in a spooky, Halloween-themed adventure that can be played in a single sitting, alone or cooperatively (we recommend bringing friends!).
In TK Baha's Bloody Harvest, the beloved, undead TK Baha tasks players with stopping the giant Pumpkin Kingpin from terrorizing everyone in the town of Hallowed Hollow. Once you take him down, his pumpkin head will become your trophy to wear. And don't forget about the candies! Each variety bestows temporary buffs to help take down your enemies.
Happy trick-or-treating and shoot-and-looting!
*The Borderlands 2 base game is not included in this digital download, but is required to play the content.
** Coming Wednesday, October 23rd on PS3 in Europe and Oceania.