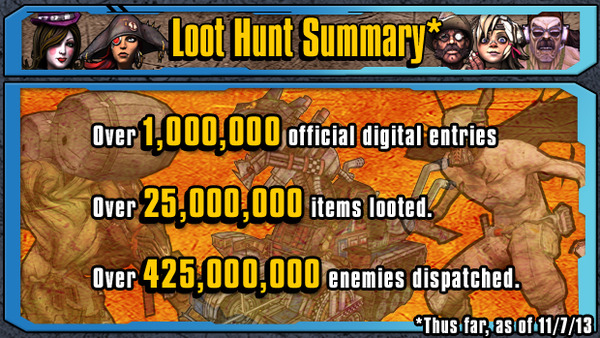 With over 1 million official entries (not counting postcard entries), over 25 million total items looted, and over 425 million enemies dispatched, the Borderlands 2 Loot Hunt Sweepstakes has been a remarkable success, thanks to all of your combined efforts.
Over the course of the past four weeks, you all took on the daily challenges and community goals that Mad Moxxi, Captain Scarlett, Sir Hammerlock, Tiny Tina, and Torgue tasked you with and were rewarded with tons of enhanced loot.
Our partners at Sony, Turtle Beach, NVIDIA, and BradyGames supplied amazing weekly prizes that some of you will win!
Thanks to each and every one of you for participating in this Sweepstakes. Even though some items were clearly more wanted than others (yes, we read your feedback and comments), we hope that you had fun.
Though the sweepstakes officially ends today, we're very happy to announce two extra bonus community days starting tomorrow! These bonus days are all about just shooting and looting. More details will be posted on the site tomorrow!
Be sure to follow @ECHOcasts and check https://www.borderlands2loothunt.com/ for daily updates.
2K and Gearbox