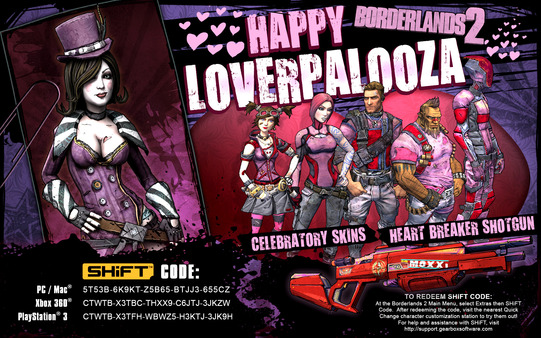 Happy Loverpalooza! Moxxi's in quite the romantic mood today and has decided to re-release last year's celebratory Loverpalooza skins and Heart Breaker shotgun. Hurry though — these codes won't be active forever, and we know that you all look best in pink!
Enjoy "Real Men Wear Pink" for Axton, "Tiptoe Through the Tulips" for Zer0, "Pretty and Pink" for Maya, "Pink Eyes" for Salvador, "Gumming the Works" for Gaige — each celebratory skin will be available in the Quick Change character customization station, along with a special version of Moxxi's Heart Breaker shotgun that will be the same level as (and appear in the backpack of) the first character you load after redeeming the code.
Miss Moxxi feels awful bad she forgot Krieg, but has now given him a pretty pink celebratory skin so he doesn't feel left out.