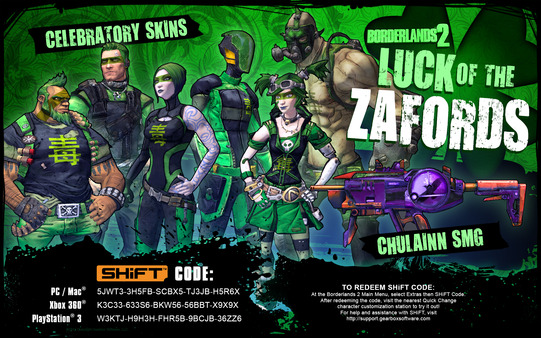 Top o' the mornin' to you!
In case you missed them last year, the Zaford clan has once again decided to take a break from binge drinking and Hodunk killing to hand out some skins for your favorite Vault Hunters. You can use the codes below to score special green skins for your characters, plus get a sweet Chulainn SMG sent straight to your backpack.
To get the goods, enter these SHiFT codes in Borderlands 2:
PC / Mac Zaford Gear SHiFT Code: 5JWT3-3H5FB-SCBX5-TJ3JB-H5R6X
Xbox 360 Zaford Gear SHiFT Code: K3C33-633S6-BKW56-56BBT-X9X9X
PlayStation 3 Zaford Gear SHiFT Code: W3KTJ-H9H3H-FHR5B-9BCJB-36ZZ6
Each skin will be available in the Quick Change station, and your shiny new Chulainn SMG will appear in the backpack and be the same level of the first character you load after code redemption.
Redeem these while you can since they won't be around forever. If you have any trouble, find help and assistance on //support.gearboxsoftware.com.