Since we announced Borderlands: The Pre-Sequel, one of the questions we've gotten the most often from our fans is "when is it coming to next-gen?" Well, get your Xbox Ones and PlayStation 4s ready – not only is Borderlands: The Pre-Sequel coming, but so is Borderlands 2! Both titles are making their way over to next-gen consoles in one package as Borderlands: The Handsome Collection on March 24, 2015 in North America and March 27, 2015 internationally!
We're excited to offer fans The Handsome Collection as it bundles the complete story of the franchise's most iconic villain, Handsome Jack, and all in stunning high definition, with high performance and graphical fidelity never before seen on consoles! On top of that, for the first time ever in a Borderlands game, The Handsome Collection offers four-player local split screen meaning four friends can shoot-n-loot together on a single television.
Already started Borderlands 2 and/or Borderlands: The Pre-Sequel on PlayStation 3, PlayStation Vita or Xbox 360? Good news: using cross-save functionality, you'll be able to continue where you left off by transferring your prior-gen save including your leveled up characters and Badass Rank to your next-gen console! (Note that cross-save will only work within the same console family – e.g., Xbox 360 to Xbox One and PlayStation 3/Vita to PlayStation 4).
Not only are you getting both games for the price of one ($59.99), but The Handsome Collection also includes a boatload of add-on content as well. You'll be getting all of the downloadable content for both titles* which is a whole lot. Feast your eyes on the list of packs included:
Borderlands 2
Captain Scarlett and Her Pirate's Booty (campaign add-on)
Mr. Torgue's Campaign of Carnage (campaign add-on)
Sir Hammerlock's Big Game Hunt (campaign add-on)
Tiny Tina's Assault on Dragon Keep (campaign add-on)
The Ultimate Vault Hunter Upgrade Pack (level cap increase)
Gaige the Mechromancer (playable class)
Krieg the Psycho (playable class)
Ultimate Vault Hunter Upgrade Pack 2: Digistruct Peak Challenge (level cap increase & challenge arena)
Creature Slaughter Dome (challenge arena)
T.K. Baha's Bloody Harvest (Headhunter Pack)
The Horrible Hunger of the Ravenous Wattle Gobbler (Headhunter Pack)
How Marcus Saved Mercenary Day (Headhunter Pack)
Mad Moxxi and the Wedding Day Massacre (Headhunter Pack)
Sir Hammerlock vs. the Son of Crawmerax (Headhunter Pack)
Character Customization Packs

Collector's Edition Pack
Commando Madness Pack
Commando Supremacy Pack
Commando Domination Pack
Siren Madness Pack
Siren Supremacy Pack
Siren Domination Pack
Gunzerker Madness Pack
Gunzerker Supremacy Pack
Gunzerker Domination Pack
Mechromancer Madness Pack
Mechromancer Supremacy Pack
Mechromancer Domination Pack
Assassin Madness Pack
Assassin Supremacy Pack
Assassin Domination Pack
Mechromancer Steampunk Slayer Pack
Gunzerker Dapper Gent Pack
Psycho Dark Psyche Pack
Psycho Madness Pack
Psycho Supremacy Pack
Psycho Domination Pack
Siren Glitter and Gore Pack
Commando Haggard Hunter Pack
Assassin Stinging Blade Pack
Mechromancer Beatmaster Pack
Gunzerker Greasy Grunt Pack
Psycho Party Pack
Siren Learned Warrior Pack
Commando Devilish Good Looks Pack
Assassin Cl0ckw0rk Pack
Borderlands: The Pre-Sequel
Handsome Jack Doppelganger Pack (playable class)
Ultimate Vault Hunter Upgrade Pack: The Holodome Onslaught (level cap increase & challenge arena)
Shock Drop Slaughter Pit (challenge arena)
Upcoming Season Pass Content (playable class)
Upcoming Season Pass Content (campaign add-on)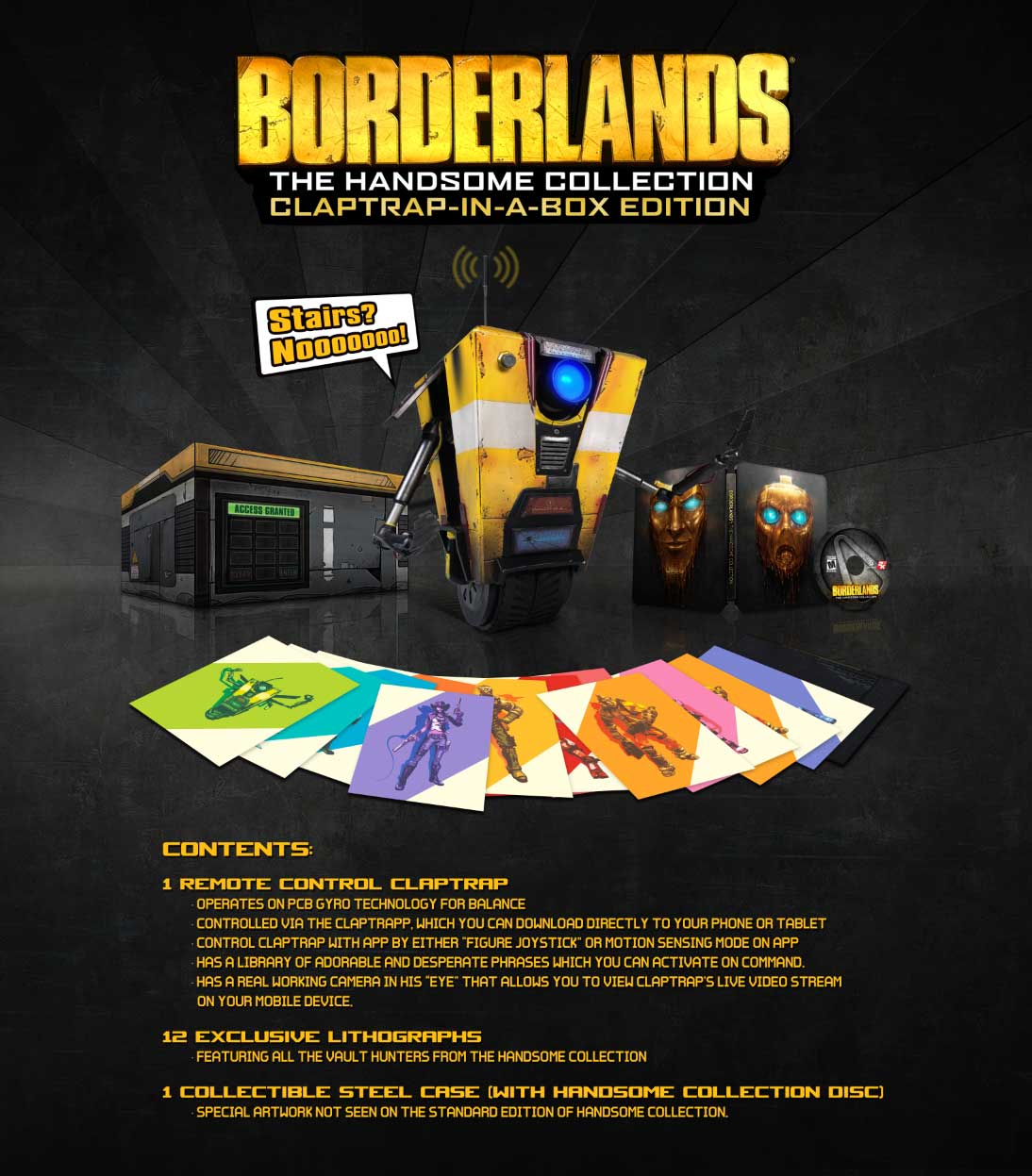 The Handsome Collection will also receive an extremely limited collector's edition, the Claptrap-in-a-Box Edition. Limited to only 5,000 units worldwide, the Claptrap-in-a-Box Edition includes a remote-controlled Claptrap steward robot that looks just like the in-game character! He is designed and detailed to look just like the Claptrap you know and love – or maybe hate – and now you have the power to control him from your iOS and/or Android device with a companion app called ClaptrApp. The remote controlled Claptrap also includes the following features:
Gyro technology to balance on one wheel allowing it to move wherever you want him to!
Voice samples of some of Claptrap's most iconic lines that can be activated on command!
A real working camera in his "eye" that is streamed to your mobile phone, so you can see where Claptrap is headed!
The Claptrap-in-a-Box Edition also includes 12 exclusive Vault Hunter lithographs as well as a collectible steel case and will be available for $399 at selected retailers. Act fast, because these things won't last long! The Claptrap-in-a-Box Edition will be available at participating retailers in North America as well as internationally.
You may have noticed that for The Pre-Sequel, we reference two upcoming add-ons above that haven't been announced just yet. We'll have more details on those very soon, so stay tuned!
*Includes all available downloadable content for Borderlands 2 and Borderlands: The Pre-Sequel as of March 24, 2015. Xbox Live or PlayStation Network account as well as Internet connection is required to download certain add-on content at no additional cost.