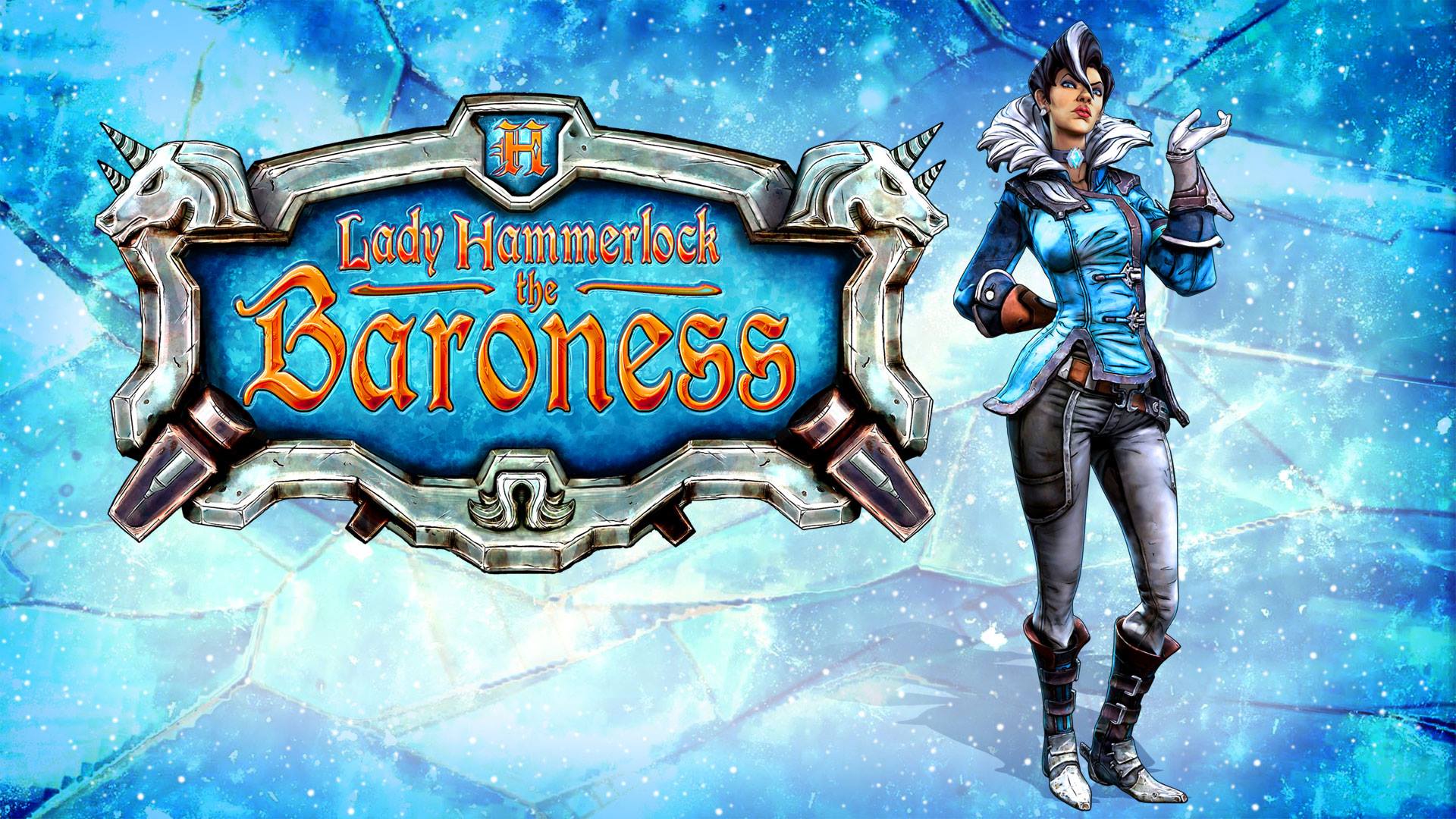 Ever wondered if your favorite researcher, Sir Hammerlock, had a sibling? Well, he does, and she's the older sister that every little brother is terrified of. Lady Aurelia the Baroness is the newest playable character coming to Borderlands: The Pre-Sequel as a downloadable add-on. Starting on January 27, 2015 (January 28 in Europe and Asia), you'll be able to pick up the Lady Hammerlock Pack on PlayStation 3, Xbox 360, and Steam
Aurelia is the heir of the Hammerlock family fortune, but when she's not riding her hoverbike through the endless hallways of her orbital turbomansion, she's out hunting the latest and greatest game in the galaxy. If these expeditions should put her in conflict with her younger brother Alistair – aka Sir Hammerlock – all the better. The only thing more fun than shooting a rare animal Alistair intended to study is the look of abject horror and surprise on his face once Aurelia wears its carcass like a jaunty scarf.
Normally, Lady Hammerlock would never be seen within a light year of Pandora, but she's grown bored as her turbomansion grows cold, while her lust for violence grows hot. She's headed to Elpis with nothing more than an expensive gun, an experimental Cryo diadem, and a powerful belief that shooting angry things in the face is a good deal of fun.
Like every playable character in Borderlands, Aurelia has an action skill and three different skill trees. Her action skill is Cold As Ice, which lets her throw out a Frost Diadem Shard that seeks out enemies and attaches to them, dealing constant damage. If that target dies, the shard will move onto a new enemy, and so on.
Her three skills trees are Huntress, Cold Money, and Contractual Aristocracy. Her Huntress skill tree focuses on sniping, including a skill that offers a massive critical hit bonus for each consecutive hit she lands without missing. Her other skill tree, Cold Money, focuses on ice damage and includes a skill that can add Cryo damage to any gun. Her third skill tree is Contractual Aristocracy, which allows her to turn a co-op teammate into a servant, earning her bonuses for their kills in addition to her own. We'll have much more info on just how badass Aurelia is in the weeks ahead, so keep an eye out for a deep dive on her skills.
If you've already picked up the Borderlands: The Pre-Sequel Season Pass, the Lady Hammerlock Pack is included, but for players that haven't, the pack will also be sold on its own for $9.99. The Borderlands: The Pre-Sequel Season Pass is available for $29.99 and grants access to all four add-on content packs – a $39.96 value! – as they become available on Xbox Live, PSN, Windows PC, Mac, and Linux. While each add-on content pack will be available for sale individually, the Season Pass offers all four packs for just about the price of three! The Season Pass also includes the previously-released Handsome Jack Doppelganger Pack, which makes Borderlands 2's maniacal antagonist playable for the first time (or at least someone who looks an awful lot like him), as well as the Ultimate Vault Hunter Upgrade Pack: The Holodome Onslaught, which raises the level cap to 60 while offering a new challenge arena with new enemies, new weapons, new class mods, and new customization options.
Since Borderlands: The Pre-Sequel launched on October 14th 2014, the teams at Gearbox and 2K Australia have continued to work hard on supporting the game with post-launch content, with more to come. The fourth and final add-on pack in the Borderlands: The Pre-Sequel Season Pass will set players off on a brand new campaign set inside the mind of Claptrap. It may be one of the weirdest things in the Borderlands universe to date, so stay tuned for updates as development progresses!
Like all Borderlands: The Pre-Sequel Season Pass add-on content, the Lady Hammerlock Pack will also be included along with the purchase of Borderlands: The Handsome Collection, which will come to Xbox One and PlayStation 4 on March 24, 2015 in North America and March 27, 2015 internationally.