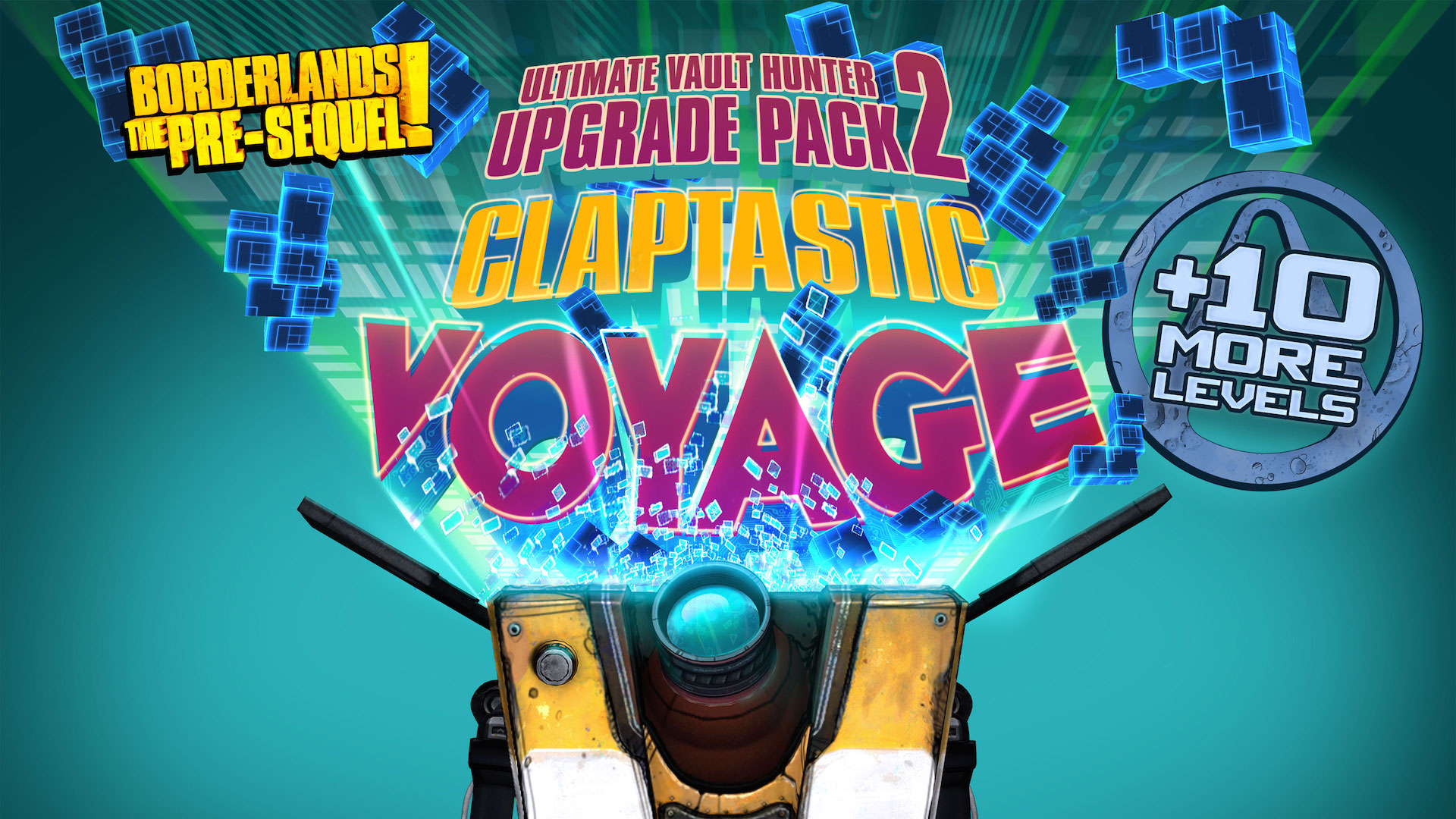 Claptastic Voyage, a new downloadable campaign add-on for Borderlands: The Pre-Sequel, is coming to Xbox 360, PlayStation 3, and Steam on March 24*, along with an additional level cap increase with the Ultimate Vault Hunter Upgrade Pack 2!
In Claptastic Voyage, Handsome Jack has found something ludicrously powerful within Claptrap's mind. Never one to turn down a chance at more power, Handsome Jack digitizes the vault hunters and sends them inside! Their goal is simple: find the mysterious "H-Source" code and get out of Claptrap's consciousness without going completely insane. These anti-heroes will have to deal with Claptrap's personal insecurities, his malware, and digital representations of his crushing loneliness!
Claptastic Voyage will answer important Borderlands questions like why Claptrap loves dubstep so much all while exploring his inner most thoughts. You'll also get a chance to visit all-new environments and make new friends (plus run into some old ones get some new gear as well as new unique Achievements or Trophies. On top of that, Claptastic Voyage features a customizable new mutator arena that lets you choose your own gravity settings, enemy mixes, and more. There's also a brand new glitched weapons system and many more fun surprises for you to discover!
Additionally, the Ultimate Vault Hunter Upgrade Pack 2 is included as bonus content in the last add-on pack in the Borderlands: The Pre-Sequel Season Pass, which raises the level cap to 70, giving each of your characters 10 new levels, plus 10 new skill points to earn!
If you've already picked up the Season Pass, Claptastic Voyage and the Ultimate Vault Hunter Upgrade Pack 2 are included. For players that haven't, these items will be sold together as one pack for $9.99. The Season Pass is still available for $29.99 and grants access to all four add-on content packs – a $39.96 value! – as they become available on Xbox Live, PSN, Windows PC, Mac, and Linux. While each add-on content pack is available for sale individually, the Season Pass offers all four packs for just about the price of three!
The Season Pass also includes the previously-released Handsome Jack Doppelganger Pack, which makes Borderlands 2's maniacal antagonist playable for the first time (or at least someone who looks an awful lot like him), as well as the Ultimate Vault Hunter Upgrade Pack: The Holodome Onslaught, which raises the level cap to 60 while offering a new challenge arena, and the Lady Hammerlock Pack, which lets you play as the cold-as-ice sister of everybody's favorite researcher, Sir Hammerlock!
Like all Season Pass add-on content for Borderlands: The Pre-Sequel, Claptastic Voyage and Ultimate Vault Hunter Upgrade Pack 2 will be included in Borderlands: The Handsome Collection, coming to Xbox One and PlayStation 4 on March 24 in North America and March 27 internationally.
* Coming on Wednesday, March 25 on PS3 in Europe and Oceania.