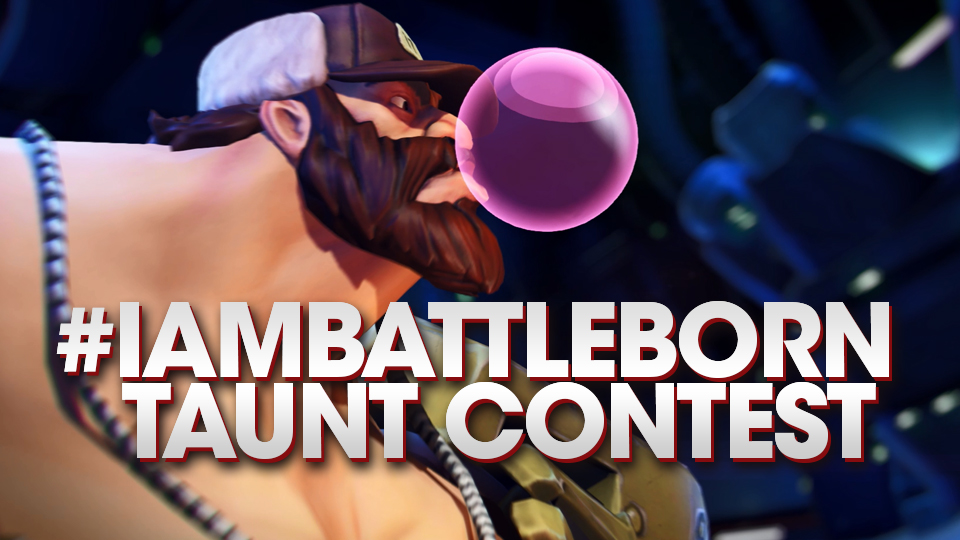 Taunts are important in the world of Battleborn. What better way is there to celebrate a hard-fought victory than by doing a set of one-handed push-ups next to the body of a recently defeated foe? (We're looking at you, Oscar Mike!)
We're already working on all kinds of awesome taunts for the game and want to give you the chance to influence our next taunt! That's why we're going to create an in-game taunt based on the winning submission of the #IAmBattleborn Taunt Contest!
This is your chance to have your taunt included in Battleborn and used as a victory celebration by millions of players around the world. Got a killer taunt idea? Here's how to enter:
Step 1: Create a video of your character taunt. You can pick any of the revealed Battleborn characters including the four newly announced badasses – Mellka, Ambra, Benedict and Reyna! Act it out on camera and make sure the shot doesn't feature other people – you're the star!

Step 2: Upload the video to YouTube (no longer than 30 sec), Vine or Instagram. At the beginning of the video, make sure to clearly indicate what character the taunt is for (show a sign to camera or shout the character's name out loud).

Step 3: (Option 1 – Twitter) Post your video in a tweet to @Battleborn and make sure to include #IAmBattleborn #Contest in your tweet

Example : Hey @Battleborn, check out my badass entry to the #IAmBattleborn #contest <link to video>

(Option 2 – Facebook) Post your video as a response to the post announcing the competition onwww.facebook.com/BattlebornTheGame
The #IAmBattleborn Taunt Contest is open now through September 10, 2015, so act fast! Click here for official contest rules.