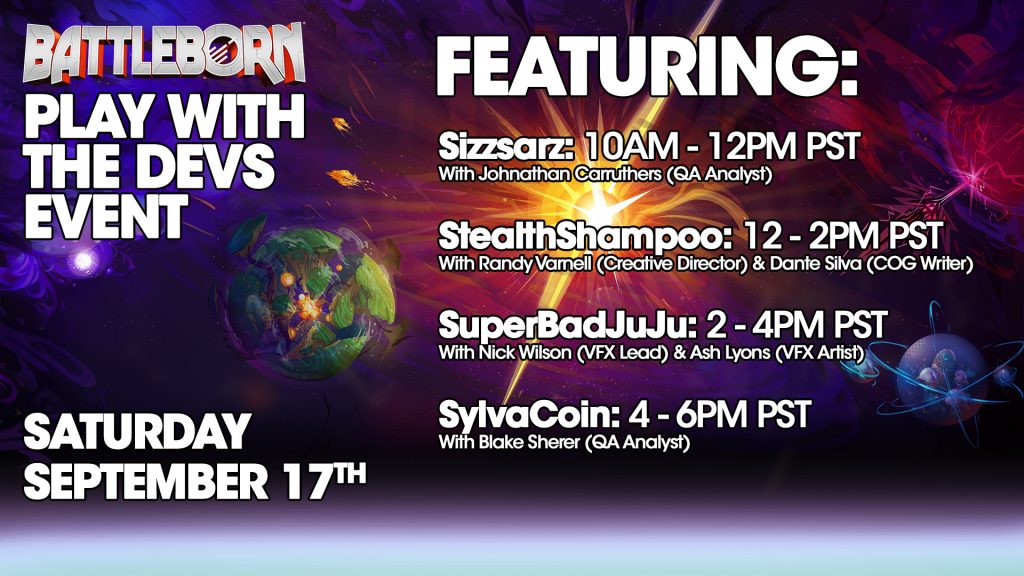 Tomorrow (September 17th, 2016) we'll be holding our second Play with the Devs event! This means that our team will be playing with the community on all platforms from 10am-6pm PT. Make sure to jump into the game and look for the "Gearbox Dev" title (example below). If you see this title, that means you're playing with a member of our team, so make sure to say "hi"! As you can see above, some of us will be joining some of the community's favorite streamers for the event. Make sure to swing by these streams and say "hi" there as well.
We'll also be giving away a SHiFT code via the Battleborn Twitter and Facebook channels that will net you two skins: Oscar Mike's "Tango Tango" (gold) and Whiskey Foxtrot's "It's Collectible Foxtrot!" (cyber). Not only that, but the SHiFT code will also give you TRIPLE XP for 24 hours as well! Triple XP will begin at the time that you redeem the code and will go no longer than Monday, September 19th at 8am PT.
See you in the Solus system!