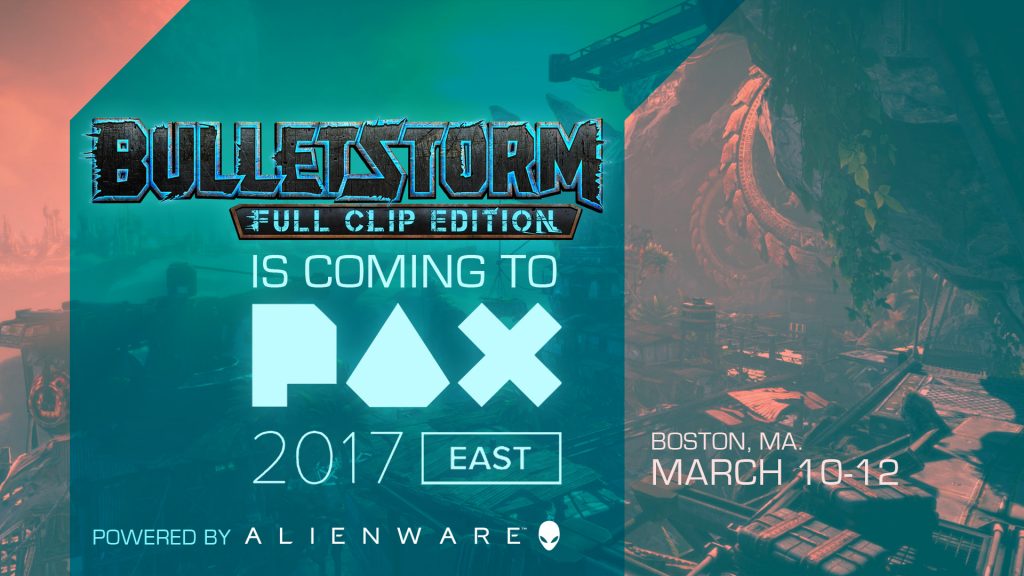 We're excited to announce that Bulletstorm: Full Clip Edition will be at PAX East 2017, March 10th-12th in Boston, MA! We'll be ready to let the PAX crowd get their hands on the game and even play as Duke Nukem. If you'll be attending PAX East, make plans to drop by booth 12055 and pay us a visit, because we'll have a lot going on that you won't want to miss. What kind of stuff? We're so glad you asked…
PLAY Bulletstorm: Full Clip Edition! You'll be able to play the game as Duke Nukem and check out the Duke Nukem's Bulletstorm Tour add-on, which is available when you pre-order.
Compete in the "Bulletstorm Skillshot Showdown" for your chance to win a part of $10k in prizes! (You can read the rules here so you're ready to go)
Live shoutcasting from prominent hosts and Gearbox Publishing team members!
On top of all that, it wouldn't be PAX if we didn't take the stage to entertain you for a little while. That's why you won't want to miss the Inside Gearbox Panel on Sunday morning at 10:30 EST in the Main Theater! Don't be fooled though – this won't be your average panel — it'll be a full-on show with tons of fun and surprises. We'll also be taking part in lots of other things too like livestreams, cosplay meet-ups, and more, so keep an eye on the Gearbox and Bulletstorm social networks to see what we're up to over the weekend!