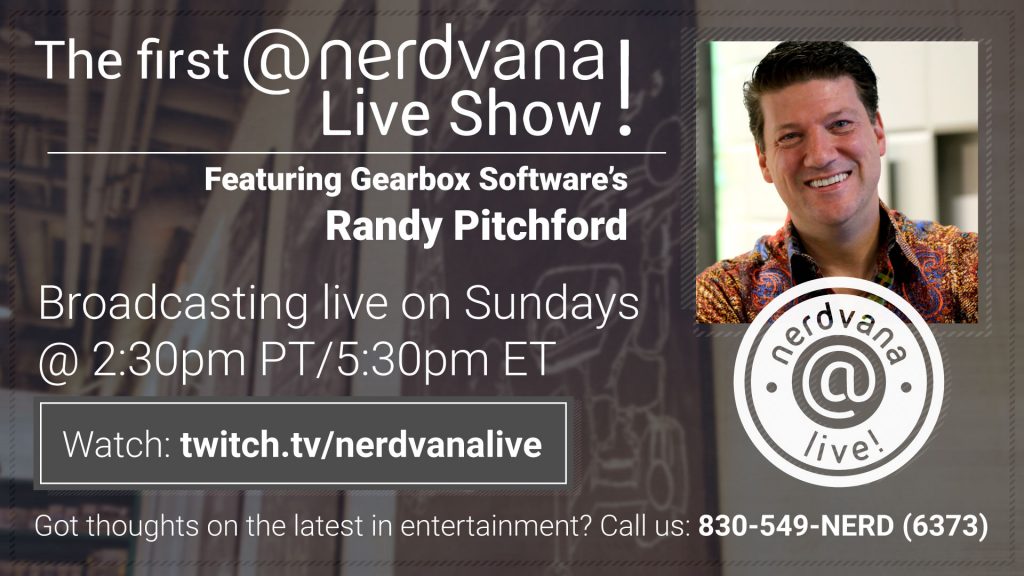 Have you ever wanted to ask Gearbox Software President Randy Pitchford hard-hitting questions? Now's your chance!
@Nerdvana Live is a brand new call-in show broadcasting every Sunday at 2:30pm PT/5:30pm ET from @Nerdvana.Coffee+Shop in Frisco, TX. A rotating cast of hosts – headlined by Pitchford – will be discussing a variety of topics, and they'll be looking to hear from you! Call in with your questions or comments about the weekly topic, or anything else you've got on your mind!
The inaugural show is this Sunday, and will feature Pitchford and Elisa Meléndez! They'll be discussing what's new in the world of entertainment, and they'd love to hear your thoughts.
To call in, dial 830-549-NERD (6373) during the show!
You can watch the stream live at twitch.tv/nerdvanalive!
Didn't catch the show on Sunday? No problem! You can download it Monday from nerdvanalive.podbean.com, or watch the VOD on twitch.tv/nerdvanalive any time after the broadcast.
Follow @nerdvanalive on Twitter for the latest @Nerdvana Live news!