Download the official Borderlands 3 Vault Hunter cosplay guides here and read on for information on the Borderlands 3 Cosplay Tour.
Wondering how many fingers Zane's gloves have or what color Moze's shoulder pad is? Want to make sure you get FL4K's patches and pins or Amara's belt bag and bandages just right? We got you.
If you're a cosplayer looking to recreate a Borderlands 3 Vault Hunter's outfit and accessories, the reference kits released today should prove useful. The full kits, which include the images posted below and many more, are now available from the media downloads section on Borderlands.com.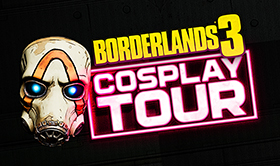 To celebrate you, the incredible Borderlands community, we'll be kicking off the Borderlands 3 Cosplay Tour at E3 in Los Angeles on June 11 and attending other events across the globe in the coming months. We're excited to see your cosplay creations, and ready to help you show them off with a unique photo experience that drops you into the middle of beautiful Borderlands 3 locations.
No cosplay? No problem! We'll have a selection of insane prop weapons on hand for you to wield, an onsite face painter ready to handsome you up in the iconic Borderlands art style, and you might even get to walk away with some loot!
Look for more information on the Borderlands 3 Cosplay Tour schedule and more cosplay guides in the coming weeks!