Excited to see more of Borderlands 3 but not making the trip to Los Angeles for E3 this year? No problem. There will be a LOT of opportunities for you to tune in to Borderlands broadcasts during E3 week. Details below.
The doors to the E3 show floor won't be open until Tuesday, June 11, but you don't have to wait until then to get your first look at new Borderlands 3 content. Not only do we have a packed E3 week schedule on the official Borderlands Twitch channel, but we'll also be joining some friends for Borderlands segments during their E3 live shows.
Here's a taste of what Borderlands has going on during E3:
Sunday, June 9
1:00 PM: Xbox E3 2019 Briefing
3:20 PM: IGN Live E3 2019 – New Gameplay World Premiere
4:30 PM: Gearbox interview on Borderlands Twitch channel
6:55 PM: YouTube Live at E3 – Live Interview and Gameplay
Monday, June 10
10:00 AM: The PC Gaming Show
3:00 PM: AMD Next Horizon Gaming Presentation
5:15 PM: Twitch at E3 – Live Dev Interview
Tuesday, June 11
11:00 AM: E3 Coliseum – "Making the Mayhem" Panel
2:20 PM: GameSpot at E3 – Live Dev Interview and Gameplay
Wednesday, June 12
2:00 PM: Facebook Gaming at E3 – Live Dev Interview
Thursday, June 13
1:00 PM: Shacknews at E3 – Live Dev Interview
All times listed are PDT. The schedule is subject to change but, at the time of posting, has an accuracy rating worthy of a Legendary sniper rifle.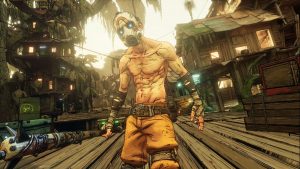 On the official Borderlands Twitch channel, a team of streamers will be reporting on their experiences at the show, interviewing special guests from Gearbox, chatting with the awesome Borderlands community (that's you!) and, of course, playing a lot of Borderlands! Streamers lending their Borderlands expertise to the broadcasts include MitsuShow, Tessachka, EdEMonster, Joltzdude139, dammit2hell, Ki11ersix, King Gothalion, Professor Broman, and Admiral Bahroo. Catch them live during the following broadcasts:
Sunday, June 9: 12 PM – 6 PM
Monday, June 10: 7 AM – 6 PM
Tuesday, June 11: 12 PM – 6 PM
Wednesday, June 12: 5 AM – 5 PM
Thursday, June 13: 7 AM – 5 PM
Friday, June 14: 6 AM – 5 PM
Have a great E3!