It's a brand-new month, and we're excited to kick it off with this week's news.
Check out what we've been up to:
GEARBOX SOFTWARE
Brothers in Arms
This week, we announced that there is a Brothers in Arms series in the works, with showrunner Scott Rosenbaum at the helm. The series will focus on previously classified World War II stories, beginning with a military scandal that was kept secret for 40 years.
Borderlands 3
Hotfixes – Thanks to everyone who's jumped into Revenge of the Cartels and Mayhem 2.0 this past week! We've been monitoring your feedback and are aware of some concerns as a result of the April 23 patch. Since then, we've released two hotfixes to temporarily disable Mayhem Modifiers that were resource-intensive, and they've already resulted in significant improvements to stability and performance. While today's adjustments to drop rates and Anointment rates continue these improvements, our efforts are still focused on addressing your concerns. Check out the full hotfix notes here, and if you'd like to provide additional feedback or report further issues, please submit a detailed ticket to support.2k.com.
Revenge of the Cartels Soundtrack – From Villa Ultraviolet to your ears! The Revenge of the Cartels soundtrack is available now. Be sure to check out the rest of the Borderlands 3 soundtrack to add even more mayhem to your playlist.
Twitch Prime Drops – The fourth Borderlands 3 drop for Twitch Prime members is now live! Score the Rolly Player head and three Golden Keys. Redeem them here, and they'll be in your in-game mail next time you log on! There's still time to grab previous drops, but you'll only have until May 14th to redeem them.
Loot the Universe – The Loot the Universe event, in which one planet per week will have increased chances for Legendary gear types, switched to Promethea this week. Loot the Universe runs through May 14, but you can check out the whole planetary schedule here.
Webby Awards Nomination – Borderlands 3 has been nominated for three Webby Awards! You can vote for us for Best Art Direction, Best Game Design, and Best User Experience. Voting closes Thursday, May 7.
GEARBOX PUBLISHING
Risk of Rain 2 – The community art contest just wrapped up, and our friends at Hopoo selected their favorites! Here is your winner, Geddy: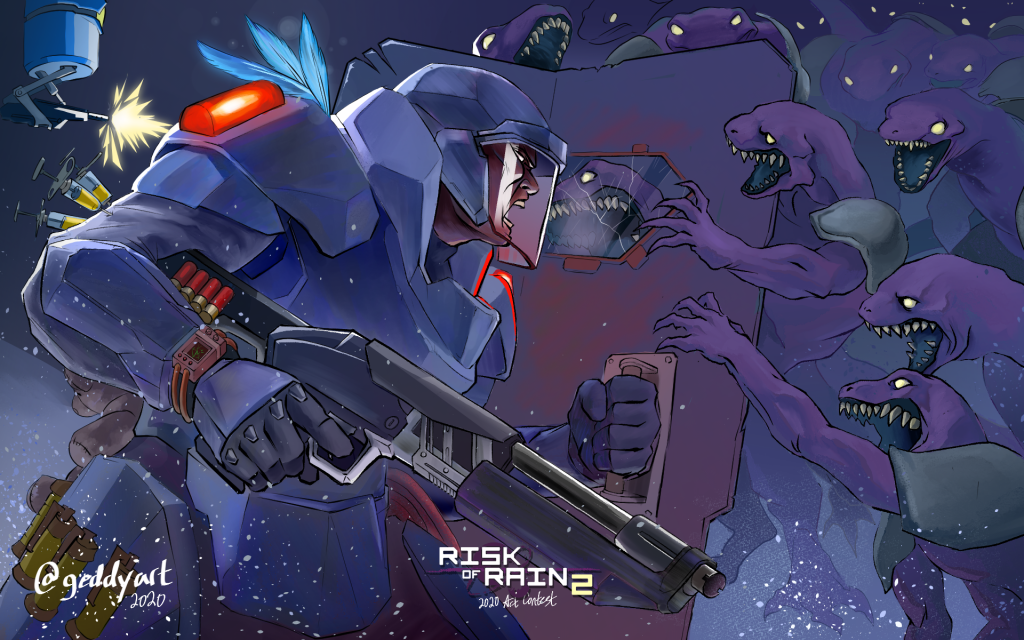 You can see the other finalists and discuss your favorites over on the Risk of Rain 2 Discord.
PlayStation Store Games Under $20 Sale – These select Gearbox Publishing titles are on sale through May 13:
COMING UP…
That's it for us this week, but here's what you need to know for next week:
The Loot the Universe event switches planets from Promethea to Eden-6 next Thursday.
Borderlands Legendary Collection releases for Nintendo Switch May 29, but there's still time to pre-order!
Be kind, stay safe, and stay tuned to our social channels for news as it happens! Whether it's Twitter, Facebook, or Instagram, we gotchu, boo.
See you next week!