Gearbox Raises The Curtain On Penn And Teller Vr: Frankly Unfair, Unkind, Unnecessary & Underhanded, Launching June 27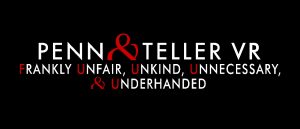 New trailer features legendary entertainers, Penn & Teller, introducing magical mayhem coming to the Oculus Quest, Oculus Rift, HTC VIVE, and PlayStation® VR
FRISCO, Texas – June 19, 2019 – Gearbox Publishing and Gearbox Software unveiled Penn and Teller VR: Frankly Unfair, Unkind, Unnecessary & Underhanded (Penn & Teller VR: F U, U, U, & U), a comedic social VR experience. Perform over a dozen magic tricks, pranks and simulations that will fool your friends, featuring timeless magicians including Houdini, Cardini, and Penn Jillette himself. The virtual torturous toy box will be available for $19.99 on June 27, 2019 for Oculus Quest, Oculus Rift and HTC VIVE, and on July 9, 2019 for PlayStation® VR.
Watch the reveal trailer here: https://gearboxsoftware.com/pnt/
"When a new mind-blowing technology comes out, the first thing Teller and I think is, 'How can we use this to help people play tricks, cheat, and prank'," said Penn Jillette, the larger and louder half of Penn & Teller. "Luckily for us, (and maybe less luckily for the world), Randy Pitchford, the big cheese at Gearbox, is our buddy, and worked as a professional magician. We are the same soulless motherhubbards. So, we've found a way for people to use VR as a tool to monkey with their so-called 'friends.' It's what we do, and we've done it."
Penn & Teller VR: F U, U, U, & U isn't just a bunch of silly magic tricks and pranks (yes, it is), but a guide from your virtual friends, Penn & Teller, to help humiliate your real friends. Demonstrate the healing powers of immersion therapy, test your telekinetic powers, or even guide your soon-to-be-ex friends as they perform The Most Dangerous Act in Showbiz! After learning the secrets behind each trick and prank, you'll have the tools to fool just about anyone and might even leave them with actual egg on their face.
"In our collaboration, we became animated by advances in the transformative medium of virtual reality and are now excited for fans of magic, pranks, tricks, video games, and VR to be able to experience an entirely new kind of interactive experience," said Randy Pitchford, President, CEO and Co-founder of Gearbox Software. "With Penn & Teller VR: F U, U, U, & U, you'll have the tools and technology to feel what it's like to *be* magicians like Penn & Teller."
Visit the official website for more information.
Additional assets are available within the press kit.
About Gearbox Software
Gearbox Software is an award-winning, independent developer of interactive entertainment based in Frisco, Texas. It was founded in 1999 by game industry veterans, and its first release was Half-Life: Opposing Force. Since then, the company has become widely known for successful game franchises including Brothers in Arms, Borderlands, and Battleborn, as well as acquired properties Duke Nukem and Homeworld. For more information, visit https://gearboxsoftware.com.
About Gearbox Publishing
Founded in 2016, Gearbox Publishing was established with the goal of helping developers around the world bring their products to market while retaining their unique creative visions. The mission began with the critically-acclaimed Homeworld Remastered Collection for PC, and have since been followed by many partnerships that include Epic's Fortnite, tinyBuild's Hello Neighbor, and Compulsion Games' We Happy Few. Gearbox Publishing continues to remain committed to its mission to entertain the world and become the most developer-friendly publisher in the industry. Learn more at https://www.gearboxpublishing.com.
# # #
Media Contacts
TriplePoint for Gearbox Software
gearbox@triplepointpr.com
(415) 955-8500