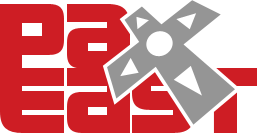 We're headed to PAX East in Boston this weekend — come see us at these panels:
Sunday, March 24 at 12:30PM ET
Main Theatre
Gearbox Software is back at PAX East in Boston! If you've made it to our panels before, you know you will not want to miss this one! This is your opportunity to get a behind the scenes look at Gearbox Software and all your favorite Gearbox games including Borderlands 2, and other amazing Gearbox franchises. And we can't forget about all the never before seen reveals, huge exclusives and massive surprises! We are now in the Main Theater this year so more space for more fans! Come out and join us!
Panelists: Randy Pitchford (CEO of Gearbox Software), Mikey Neumann (Chief Creative Champion at Gearbox Software), Anthony Burch (Lead Writer for Borderlands 2 at Gearbox Software), Paul Hellquist (Creative Director for Borderlands 2 at Gearbox Software)
Best of the 2013 D.I.C.E. Summit
Friday, March 22 at 2:30PM ET
Naga Theatre
Martin Rae, president, Academy of Interactive Arts & Sciences, will be bringing to PAX East a speaker from the 2013 D.I.C.E. (Design, Innovate, Communicate, Entertain) Summit stage. Randy Pitchford, president and co-founder, Gearbox Software, and previously a professional magician, will follow with his session titled: "Video Games are Magic." Randy will explore how the lessons of magical performance apply to our industry. Along the way, he'll demonstrate and expose specific techniques, methods and ideas from magic that illustrate how the art of illusion has a lot in common with the art of interactive entertainment and leave his audience with tools that are useful and applicable from the executive level to the design level of our craft. Following will be a Q&A with Randy.
Panelists: Randy Pitchford (CEO of Gearbox Software), Martin Rae (President, Academy of Interactive Arts & Sciences)
Can't make it to PAX East? Watch our panel live on twitch.tv/2k beginning Sunday, March 24th at 12:30PM ET (What time is that for me?)