As some of you may have heard, Battleborn has just gone gold today! That's dev-speak for, "the game is done!" When we first started creating Battleborn, we knew we wanted to make a game with a large roster of characters. We also wanted each character to have enough substance and personality to where they could be the lead hero of their own game. Initially, we felt that was very ambitious and started off with the goal of making about a dozen characters. As it turns out we actually LOVE making characters and have gotten better and better at it and so we pushed ourselves to go above and beyond, expanding the Battleborn roster to 25 fully playable and unique heroes you'll get to command in the retail game!
Our objective was to create an original, fun and engaging video game with Battleborn.  As we look around at options for our gaming time, we wanted to make sure that the full-priced retail game is a complete and full-featured game with inventive multiplayer modes and a robust single or cooperative playable campaign that ultimately offers more value and lasting fun than other competitive-only games in its class.   We also intended that our commitment to the value and fun of Battleborn as a game for solo, cooperative and competitive players will continue well past the launch of the game.
Now that the bigger and better retail game is complete, we are ready for more!
Since we began wrapping the game and going through the certification process, members of the development team have been turning more and more of their attention to what's next.  We've already got a pretty good plan about a whole set of post-launch efforts that will lead to new content and updates for Battleborn players. A lot of this content is going to be absolutely free! There are also going to be some premium things we really want to do that will require some business to support them, so expect some paid offerings to appear as well as we work with our publishing partner in this respect.
Let's get right into some of the details:
One of the things we're most excited about is the ability to add more characters to the game.  We loved adding new characters to Borderlands and, arguably, Battleborn is an even better game for adding new characters.
You can expect five more heroes to be added to Battleborn in the weeks and months after launch, bringing the total roster to 30.  Here's the most exciting part – these additional characters will be completely FREE for all platforms.  We've just finished development of the retail game and are just getting started on these new heroes, but we already have some concept art for one of the first additional heroes we'll be adding to the game.  Her name is Alani and you can check out her concept art here!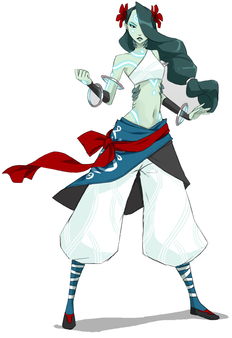 As we lock down her design and game play, we'll be sure to offer more details about who she is and what she can do. Remember that Alani will be completely free to customers of the retail Battleborn game and is just the first of five additional characters that will be added to the game.
New characters are just the beginning of many free updates we're planning.  We are putting together an entire season of new, free content for Battleborn which will include new maps, new game modes, new features, continual balance updates and more.  We'll get into a cadence of sharing details with the community as the game launches.
In addition to the free content, we also want to tell new stories about our Battleborn through added campaign content.  To that end, you can expect five new premium add-on packs that will allow you to command your heroes in all-new Story Operations. These will be rich, character-driven experiences that will provide a deeper story behind the game's new heroes.  Our publishing partner, 2k Games, will be working with retail partners and digital stores to make sure that customers can find this content either individually or at a discount packaged together. We'll link those details as they become available.
Ultimately, we have big plans for Battleborn.  The launch of the game is just the beginning!  Battleborn has already become a regular gaming hobby for us at both Gearbox and 2K. It's our ambition that Battleborn will become a favorite game for you, too! We know that Battleborn's value over time really depends on our commitment and investment in the Battleborn community as it grows and evolves. As the Battleborn gaming hobby becomes our focus post-launch, we have a couple of core principles that will guide us as we reach that objective:
1.Battleborn is a full-featured, AAA video game. As such,  solo players, cooperative players (including couch co-op) and competitive players are all each very important to the Battleborn community and shall all be supported by developers who are themselves passionate about each of these styles of play
2.Post-launch support will be robust and will allow for regular balance adjustments and regular, free new content to be added that is designed to enhance and enrich the game and the community. Gearbox Software will adapt with the Battleborn community over time in support of the game, sometimes leading and sometimes being led by the community of players.
Once the game is live, we'll be able to collect feedback from you, the players, on how to make the game better. We'll learn what you like playing and what you want more of. We'll discover how you play the game and be able to deliver more of what makes the game fun and challenging. And we will remain focused on keeping the game balanced for all players, because for us balancing isn't an event, it's a discipline.
This process will start before Battleborn even launches as we deploy an open beta soon.  The open beta will be helpful for stressing our still in-beta backend services while also generating more player minutes than we could ever possibly hope to have with internal testing that will help to improve the quality, balance and polish of the game in updates that are ready on-time for the game's official retail launch.
Our player community means everything to us, and we're dedicated to providing the best possible experience with Battleborn. We're less than two months away from launch, and we're excited to embark on this journey with you all to save the last star when Battleborn ships on May 3 for Windows PC, Xbox One and Playstation 4!