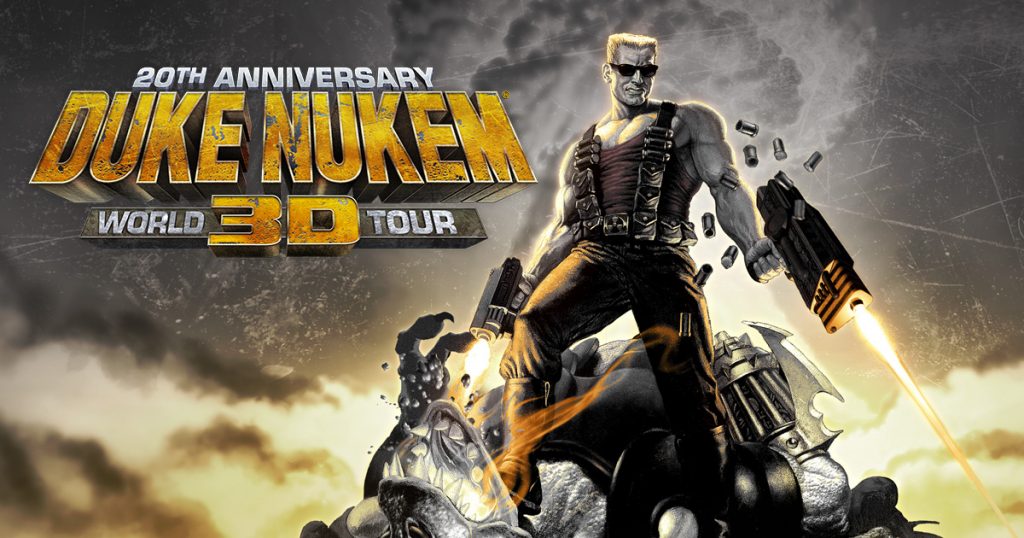 The wait is almost over! Duke Nukem 3D: 20th Anniversary World Tour launches tomorrow, October 11th, and we have no doubt that you're as excited as we are! Since launch day is almost upon us, we want to make sure you have the most up-to-date info on when you'll be able to suit up as Duke and kick some alien ass.
Duke Nukem 3D: 20th Anniversary World Tour will be available for digital download tomorrow, October 11th at 5pm PDT (8pm EDT) (What time is that for me?). What's more, if you pre-order on PlayStation 4®, you'll get a sick Duke Nukem theme!
As we've counted down to release, we've been asked a lot of questions, but the most common one has been "Will Duke be getting a physical release?" The more we thought about it, the more we realized that we can't just bring Duke back in digital form. Duke is a physical guy, so it makes sense to release a physical disc edition.
With that in mind, we're happy to announce that we've partnered with GameStop to create a limited Physical Edition run of Duke Nukem 3D: 20th Anniversary World Tour for Playstation 4® and Xbox One! These will go on sale at GameStop stores across North America beginning on October 18th. You can preorder your physical copy now through GameStop!
As you ravage the alien hordes, make sure to take a break now and then to visit our official forums. There, you can keep up with the conversation regarding Duke or even start a discussion of you own with other players. Need support? We've got you covered there too. Visit our support page and we'll be of service in any way we can.
While you wait your respective release time, can also check out our previous posts on the new content coming with Duke Nukem 3D: 20th Anniversary World Tour and a rundown of some of the previews released by various gaming sites!
So, there you have it– everything you need to know about tomorrow's release of Duke Nukem 3D: 20th Anniversary World Tour. With that taken care of, it's time to go back to staring at the clock as we await the return of The King. Damn, 2016 looks good.