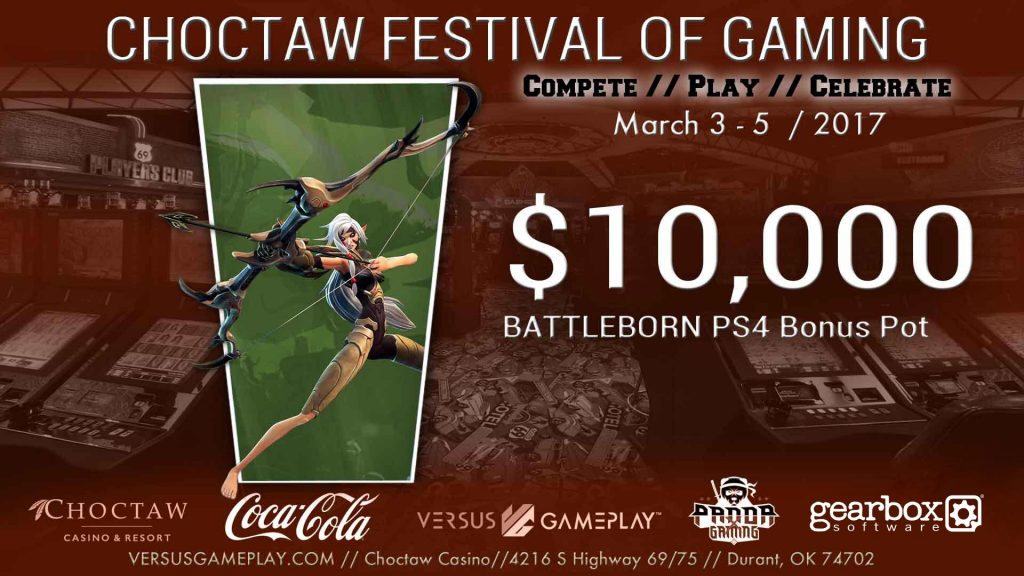 We're extremely excited for this weekend's big $10k Battleborn Tournament at the Choctaw Festival of Gaming in Durant, OK! This Saturday, March 4th, the Battleborn competitive community will converge at the Choctaw Casino and Resort for an intense and action-packed weekend of gaming.  What's more, members of the Gearbox team will also be in attendance, ready to enjoy the action and rub elbows with the community. If you'll be there in-person and see someone in a Gearbox/Battleborn eSports jersey, that's a dev, so make sure to grab us and say "hi"!
We're very much looking forward to celebrating competitive Battleborn with the community. If you can't be there in person, don't worry — you can still keep up on the tournament by visiting the Gearbox Software Twitch Channel. We'll be streaming all the Battleborn Festivities for you so you won't miss a thing.
Friday, March 3rd
4:00-6:00pm CT: GBX Battleborn Showcase
6:00-8:00pm CT: Online Qualifier Exhibition
8:00-9:00pm CT: Dev vs Community Exhibition
Saturday, March 4th
11:00am-8:00pm CT: Battleborn Bracket to Top 2
8:00pm CT: Battleborn Finals!