Gearbox Community Badass
Love is in the Air Edition: Melanie and Michael
Well, I have to say: we've covered some pretty unique people over the course of Community Badass so far, but this week is something special! Here at Gearbox, we've heard lots of stories of relationships forming and flourishing during long jaunts to Pandora. We've even heard of several unique and even amazing proposals (one of which you'll be hearing more about very soon), but last week at PAX Prime, we had a wedding! One industrious couple along with the help of some of Gearbox and 2K's finest, put together a wedding ceremony that completely stole the show at our Inside Gearbox PAX Panel. Just in case you missed it, you can check out video of the panel below. It of course contains some amazing news and info that you'll want to see, but if you're just here for the wedding, it starts at 1:04:45. Thanks again to Melanie and Michael for their support and dedication and most of all, for letting us be a part of their special day!
First off, give us a little background. How did you guys meet?
We actually met a little ironically. Both of us were asked out by a mutual friend for an anti-Valentine's Day dinner in 2014. We ended up spending the whole weekend together playing games. It just worked from the beginning!
How long have you each been playing Borderlands?
Melanie: I got the first achievement in Borderlands on January 5th, 2010 – not too long after it released. I went into Gamestop looking for a new game to play, and the guy working suggested Borderlands. It quickly became one of my favorites! Michael was first introduced to Borderlands 2 not too long after we met. I had it in my Xbox 360, and when I went to cook dinner one evening, he popped it in to play something while he was waiting.
Michael: Once I started up the game and had to choose a character I picked Zer0 because well Reasons! I loved how the game looked and it was really fun. I asked Mel about it and she already had a character but she made a new character so that we could play together and then I was hooked. Ever since then we have been playing all of the Borderlands games together even the Tell Tales Game Tales from the Borderlands. To answer the question though I started playing on February 20th, 2014.
So the obvious question: what gave you guys the idea to have your wedding at the Borderlands panel at PAX?
Michael: I knew we were going to PAX already, and we had already planned on getting married there even if we did it in the line waiting for the expo to open. To try my luck, I decided to high-jack Mel's twitter and tweet Randy Pitchford.
Once I sent that, Mel and I waited. The next morning Melanie woke up to 25 email notifications from Twitter. At that point Chris Faylor got in touch with us and made the magic happen!
Melanie: We had already approached PAX, who told us that they would not be willing for us to do it in the expo hall because of how unpredictable it would be. I had no idea Michael had hi-jacked my Twitter until after I had gotten home from work.
How did you guys even pull that off??
Michael: To be honest it was a monumental quest that Gearbox accepted, and we had no idea what we were even asking of them. We had to rush to get everything ready. I got some gifts from my submarine's store (Challenge coins, Lanyards, and T's Shirts). We then made up some gift bags: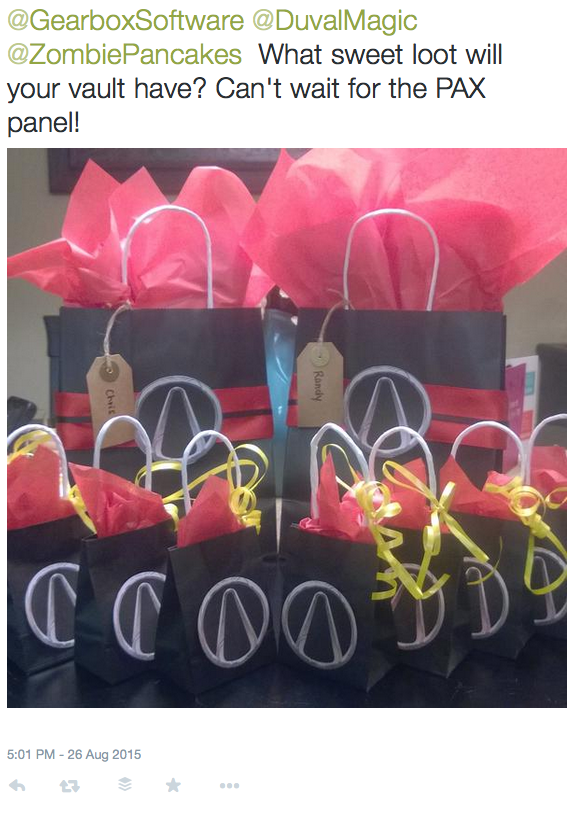 Both Mel and I had to come up with our Vows and get them to Chris for him to put into the line-up for the panel and we had to make sure that we had an officiant for the ceremony. We ended up getting all of it together in about 3 days time!
Melanie: I ended up putting together a small bouquet of flowers also. We wanted to keep everything low key and fun. The gift bags were our way of thanking those involved for making this all happen. We wanted to make sure everyone got a little something unique and special from us.
We all know that it's every girl's dream to have Mikey Neumann hold the mic for her at her wedding. I guess that's not so much a question as a statement, huh? — Oh there we go, got it!
Melanie: Of course it was my dream to stand on stage and have Mikey Neumann hold the mic for me! Really, Friday ended up being a really busy day for us. We hit up the convention first thing in the morning to meet up with Chris at the Battleborn booth. We got a chance to hang out, chat with the developers and other staff, and play through the demo twice each. From there, we got everything ready and headed over to Benaroya Hall to prep before the panel. It was a lot of fun hanging out with everyone again and making sure we had everything ready to go. The panel was great! We got to hear all sorts of news about Borderlands and Battleborn before it was our turn. When Randy invited all of the cosplayers on stage, I had no idea they were going to be part of the whole experience. It was such a blast, and really so meaningful, to sit there with everyone surrounded by what we love and get married. After the panel, we got the chance to head over to the autograph session where all of the people from the panel signed our wedding guestbook, as well as those fans in attendance. It really couldn't have been any better!
Michael: Melanie and I got the opportunity to meet up with Mikey, Kris, and Chris on Thursday in Seattle. They were just going to go over the panel timeline and then we would be on our way. As it turned out they had gotten off of their flight and had not eaten yet so we ended up going to Ruth's Chris for dinner with them. (Here is a little secret, we had eaten our dinner on the ferry ride over from Bremerton but we didn't want to be rude to them.) We talked about the panel and then just talked and got to know each other. Mikey is a character, in a great way. He is very personable and very much an A type personality. Kris is super chill and easy to talk to and he is really funny and quirky in a fun way. Chris was just amazing! Chris is one of those guys you want to have on your team because he is always looking out for you and making sure things are right, one word to describe him would be BADASS! As for the even itself, EXPLOSIONS!!!! Seriously, everyone from Gearbox and 2K were so nice. They really took care of us and made this even more special!
You mentioned at the panel that this was Michael's idea. What did you think when he first brought it up?
Melanie: I thought it was great! PAX had already told us no, so I wasn't sure we'd actually hear anything from Randy. My account is just one on Twitter, and I can't imagine how much he gets tagged in one day. I thought it was rather clever the way he did it. I'm so very glad Michael did it, because Borderlands really was one of the first games we played together.
I'm sure you're aware that Pandora is full of popular honeymoon spots. I hear the Arid Badlands is … arid this time of year. Have you guys chosen a honeymoon destination?
Michael: Mel and I are thinking Dragon Keep. I hear the view is amazing all the time. On top of that the fast travel is literally right there so if we don't like it we can always change venues! Honestly though our Honeymoon was PAX. One thing Melanie and I did over the weekend was go up to the Battleborn booth and get VIP play time in. Jeff Skal and Anthony Nicholson, from Gearbox, really took care of us over the weekend and we really got to know them and make friends with them. When I think about our experience at PAX and our Honeymoon adventure those 2 guys really took care of us.
Melanie: We couldn't have asked for a better honeymoon, really. The two guys we got to hang out with – Jeff and Anthony – were great. The whole experience was far beyond what we even expected.
I know your trip to PAX was pretty busy, but did you get a chance to play Battleborn? What did you think?
Melanie: We absolutely got to play Battleborn! We ended up playing twice on Friday, once on Saturday, once on Sunday, and twice on Monday. It was amazing to play! The graphics are great – very reminiscent of the Borderlands style. What got me most was how many characters there were to choose from, each with totally unique abilities. We made a point to play with a different character each time, so we would be able to get the full experience.
Michael: Are you kidding?!?! Did we play Battleborn?!
The game is amazing! Graphics are great, the controls are really smooth, and the story mission we played though had some really good dialogue. I think between the two of us we ended up playing all of the characters except for a couple of them. My personal favorite of the weekend is ___________ (Put in a playable characters name.)! They are all unique and really easy to level up and play with. I am more of a shooter myself so Oscar Mike and Marquis really fit my play style but I also had a TON of fun with Rath and Caldarius.
So what's next for you guys?
Melanie: What's next for us? Man, where can we go after getting married at PAX? Now that we're back from PAX, it's back to the real world.
Michael: Ditto. We have normal jobs like everyone else, have to pay the bills somehow, right? We do make time to play all of the games we want to. We are still on True Vault Hunter for Borderlands: The Pre-Sequel so we have tons of hours left on there.
Where can we keep up with what you guys are up to?
It's our pleasure to support such a great company like Gearbox. We have had nothing but positive experiences with your games and now your staff. It was absolutely amazing to have been given this opportunity to take what we love and bring it into our wedding. It all started with Randy Pitchford agreeing to do this for us, then Chris Faylor for getting the whole production started. Another thank you goes out to Mikey Neumann and Kris Straub for making the initial meet-up relaxed and comfortable and just fun – exactly like we were hoping for. A huge thanks go out to Anthony Nicholson and Jeff Skal for befriending us and making sure we had an amazing time. We're still in disbelief that we actually got to participate in all of this. How in the world do we celebrate our first anniversary after a wedding like this!?