Borderlands® 3 Add-on 'Guns, Love, and Tentacles: The Marriage of Wainwright & Hammerlock' Is Out Now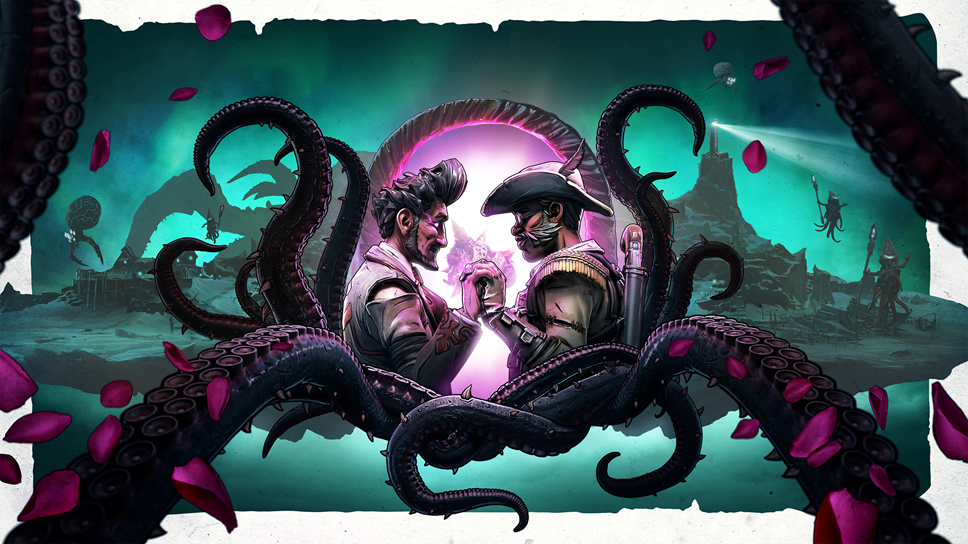 The second expansive and story-rich campaign add-on for Borderlands 3 is available now, along with a free level-cap increase, new ECHOcast extension feature, free bonus weapon, and more
The engagement party celebrating the upcoming union of Sir Alistair Hammerlock and Wainwright Jakobs is now in full swing on the brand new ice planet Xylourgos! Borderlands® 3's second campaign add-on – Guns, Love, and Tentacles: The Marriage of Wainwright & Hammerlock – is now available on PC, Xbox One, PlayStation 4, and Stadia.
Guns, Love, and Tentacles is the second of four campaign add-ons included with the Borderlands 3 Super Deluxe Edition and Season Pass. It's also available to purchase separately, though you will need to own a copy of Borderlands 3 to play it. Catch the Guns, Love, and Tentacles trailer here, and download screenshots, key art, and more right here.
As an honored guest at this Lovecraftian engagement party, you'll have to fight back the forces of otherworldly evil if Wainwright and Hammerlock are to have their happily ever after. Luckily, the most badass wedding planner in the galaxy has your back: Gaige, a former Vault Hunter who's inseparable from her robot BFF Deathtrap. And that's not all:
Explore multiple zones on the all-new planet of Xylourgos;
Complete spine-tingling new story and side missions;
Confront new enemies including alien beasts, mutated occultists, and formidable bosses;
Add new Legendary Weapons, Class Mods, and other gear to your arsenal;
Collect new Vault Hunter Heads and Skins, Vehicle Skins, and interactive Room Decorations.
In order to reach Xylourgos with an existing Vault Hunter, you'll need access to Sanctuary III, the starship you unlock by completing Episode 5 of Borderlands 3's main story campaign. When you're ready to travel to Xylourgos, look for the invitation – highlighted with a yellow exclamation mark – in Hammerlock's study.
Alternatively, you have the option to create a new Vault Hunter and bypass the opening acts of the Borderlands 3 story so you can head straight to Xylourgos. If you have a campaign add-on installed and would like to play that content with a fresh Vault Hunter, select Play on the main menu, followed by New Game. You'll then be able to choose which storyline you want to jump into.
In addition to Guns, Love, and Tentacles, today also saw the release of some exciting content and features that are free to all players:
Starting today, the new maximum Vault Hunter level is 57 (up from 53), as revealed on The Borderlands Show earlier this week;
The Moxxtail ECHOcast Twitch extension event is now live, providing an innovative new way for fans to both interact with and support their favorite streamers;
The recently announced Takedown Shakedown mini-event continues for one more week, with additional in-game events coming soon;
Finally, all players who log in to Borderlands 3 within the next 30 days will receive a free steampunk-inspired weapon and weapon trinket through the in-game mail system. Be sure to log in soon to check out the Epic-rarity Short Stick SMG and Vapor Hoodlum trinket for yourself!
And just in case you missed the announcement earlier today, the Borderlands franchise is finally coming to Nintendo Switch™! Borderlands® Legendary Collection arrives on the platform on May 29, 2020 and includes Borderlands®: Game of the Year Edition, Borderlands® 2, and Borderlands®: The Pre-Sequel. Each game features local two-player split-screen co-op play and support for up to four players online.
For more information about Borderlands Legendary Collection features and content, please visit 2K.com/nintendoswitch. To download screenshots, art, and other assets covering the entire 2K catalog, please visit newsroom.2k.com.
2K is a wholly owned publishing label of Take-Two Interactive Software, Inc. (NASDAQ: TTWO).
# # #