Borderlands 3 Consumer Product Partners Unveiled
Gearbox Software/2K ink Consumer Products deals for the highly-anticipated release of Borderlands 3
Gearbox Software and 2K have unveiled their consumer products program for the upcoming release of Borderlands 3, launching September 13, 2019. Retail Monster is on board as agent alongside Gearbox and 2K to support retail and consumer products strategy for the venerated franchise.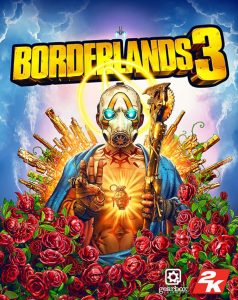 The multi-category program will feature a vast range of toys & collectibles; apparel and accessory collections; home goods; videogame accessories; publishing; and seasonal costumes as well as cosplay accessories.
"This is the largest roster of licensed products for a brand in both Gearbox's and 2K's history," says Sean Haran, Vice President of Business Development for Gearbox Software. "We're always looking to continue to build upon the Borderlands franchise, this list of great partners is just the beginning of what's to come."
"For all of us at Gearbox, this year is all about Borderlands," says Erica Hollinshead Stead, Director of Licensing for Gearbox Software. "Our game development team crafts every aspect of the game with love and attention – from the distinctive hand-inked art to the stories of our characters. We are very excited to have found partners who are dedicated to creating products with just as much passion, creativity, and attention to detail."
A full list of the program partners is below:
Toys & Collectibles – Chronicle Collectibles, CMD/FigPin, The Coop, Funko, Gaya-Entertainment, Mattel/Mega, McFarlane Toys, Minted Labs, PhatMojo, Rubber Road/Numskull, Well Played Toys, Weta Workshop
Apparel and Accessories – Bioworld, Changes, Concept One, Level Up Wear, Volante Design
Home Goods – Just Funky, GB eye
Videogame Accessories – Exquisite Gaming Products, KontrolFreek, Performance Designed Products
Publishing – Insight Editions
Seasonal – Spirit Halloween
E-Commerce – Entertainment Retail Enterprises (www.gearboxloot.com), Fifth Sun/Design by Humans
About Gearbox Software
Gearbox Software is an award-winning, independent developer of interactive entertainment based in Frisco, Texas. It was founded in 1999 by game industry veterans, and its first release was Half-Life: Opposing Force. Since then, the company has become widely known for successful game franchises including Brothers in Arms, Borderlands, and Battleborn, as well as acquired properties Duke Nukem and Homeworld. For more information, visit www.gearboxsoftware.com.
About 2K
Founded in 2005, 2K develops and publishes interactive entertainment globally for console systems, handheld gaming systems and personal computers, including smartphones and tablets, which are delivered through physical retail, digital download, online platforms and cloud streaming services. 2K publishes titles in today's most popular gaming genres, including shooters, action, role-playing, strategy, sports, casual, and family entertainment. The 2K label has some of the most talented development studios in the world today, including Visual Concepts, Firaxis Games, Hangar 13, Cat Daddy Games and newly formed, to-be-named studio in Silicon Valley. 2K's stable of high quality titles includes the critically acclaimed BioShock®, Borderlands™, Mafia and XCOM® franchises; the beloved Sid Meier's Civilization series; Evolve™ and Battleborn®; the popular WWE® 2K franchise and NBA® 2K, the highest rated* annual sports title of this console generation.
*According to 2008 – 2019 Metacritic.com
About Retail Monster LLC
Launched by an Executive Team that brings over 70 years of retail, buying, sales, marketing, finance, and licensing experience to its clients, Retail Monster LLC (www.retailmonster.com) utilizes it relationships with best-in-class manufacturers and retailers to deliver strategic licensed programs to shelf. Established in March 2016, Retail Monster operates office locations out of Los Angeles, New York City, Orlando, Bentonville, Ark., and London, England.