Gearbox Software Launches Initiative to Help Frontline Healthcare Workers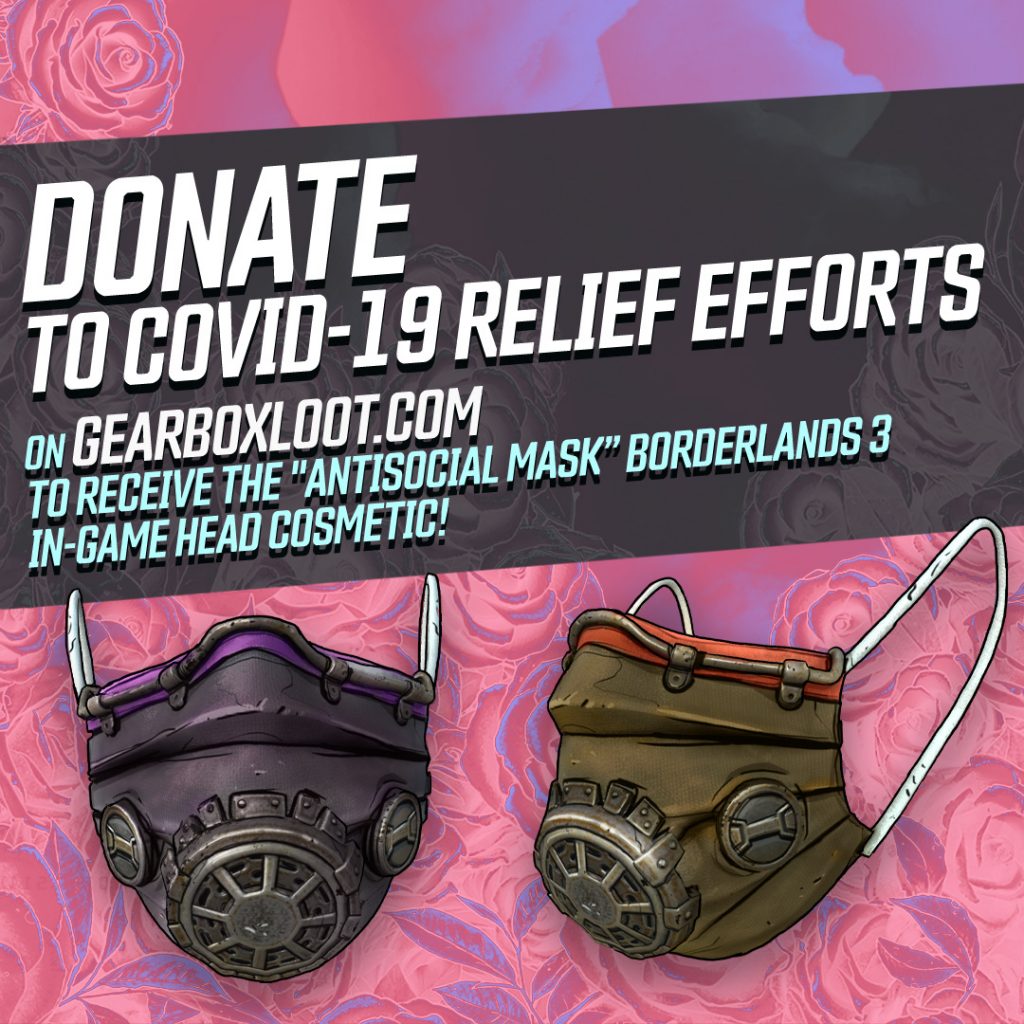 Donors will receive digital face masks for their Borderlands Vault Hunter
FRISCO, TX – June 22, 2020 – Gearbox Software today launched a fundraiser in partnership with international humanitarian organization Direct Relief to provide aid including personal protective equipment (PPE) to medical workers leading the response to the COVID-19 pandemic.
The project gives millions of video gamers stuck in their homes across the globe a chance to support something important, like ongoing emergency healthcare efforts. When individuals make a donation of at least $5.00 to Direct Relief on GearboxLoot.com, they will receive a SHiFT Code allowing them to unlock a digital mask for their characters in Borderlands 3. The donations will go directly to Direct Relief and be used to purchase personal protective equipment (PPE) for healthcare professionals.
"This is an opportunity for us to use our platform for good and help those directly fighting the pandemic," said Randy Pitchford, founder of the Gearbox Entertainment Company. "We're all inspired everyday by the sacrifices that healthcare workers are making. So let's have their backs while they are helping save lives."
"Thanks to Randy Pitchford, the entire Gearbox team, and all the Borderlands fans for their support," said Thomas Tighe, president and CEO of Direct Relief. "This campaign and these contributions are coming at a critical time in the pandemic. While states are opening, we continue to see surges in the spread of Coronavirus and there is still a need to provide PPE for frontline healthcare workers. Direct Relief is deeply grateful to Gearbox for its partnership."
Direct Relief has spearheaded efforts to protect communities from the spread of COVID-19. In addition to delivering PPE and critical care medications to healthcare workers, they are also supporting nonprofits, public health agencies, and businesses in the U.S. and around the globe with equipment distribution efforts.
About Gearbox Software
Gearbox Software is a Frisco, Texas-based award-winning, independent developer of interactive entertainment. It was founded in 1999 by game industry veterans, and its first release was Half-Life: Opposing Force. Since then, the company has become known for successful game franchises including Borderlands, Brothers in Arms, and Battleborn, as well as acquired properties Duke Nukem and Homeworld. For more information, visit www.gearboxsoftware.com.
About Direct Relief
A humanitarian organization committed to improving the health and lives of people affected by poverty or emergencies, Direct Relief delivers lifesaving medical resources throughout the world to communities in need—without regard to politics, religion, or ability to pay. For more information, please visit www.DirectRelief.org.
###